"Cast all your anxiety upon Him, for He cares for you." |
1 Peter 5:7
This is a verse that many of us have heard repeatedly. It is also a verse that probably needs to be practiced more in our Christian walk of faith.
Does God Really Care?
We read this verse and ask questions, but we often struggle to believe that God really does Care. I'm in a situation where I could be discouraged right now. When I found out that I was going back to the hospital (where I'm sitting now for a fourth stint) I found myself fighting negative thoughts. We all fight these at some point.
My first thoughts were not wanting to be isolated again. I was also thinking of the many people who have prayed for me and we (as a family) have prayed very hard for complete healing. While we are most grateful for everybody who has prayed we did not anticipate my having to go back into the hospital again.
As a quick update, the area where I had an infection has been healing up well. I'm wearing what they call a wound vac which creates negative pressure and heals the wounds from within using suction. The wound vacs in the hospital are more industrial strength but need medical supervision. The ones I bring home are more user friendly but less powerful.
The problem with my healing is different this time. They had to open my sternum again and sever my PEC muscles to try and remove the decommissioned LVAD/pump. The first time (last year) my PECS healed well and there were no major issues in that area. This time my chest muscles are taking longer to adhere and fluid has developed between my ribs and my muscles.
So here I am. I'm thanking God that I have no infection right now and I'm at the hospital and actually feeling really good. But I have had to learn over and over again what Paul is talking about in
Philippians 4
. What is it that I'm learning? To be content in all circumstances...
When we come across situations or trials that cause anxiety we need to remember that we can cast our cares upon the Lord. Being here in the hospital I find myself feeling content even though I'm away from my family and the church family.
God has already given me opportunities to share about what I do and my faith. So often "little storms" and "big storms" are opportunities to let our faith shine. God often speaks through our trials and our failures.
Here are some questions for each of us as believers:
How are you handling your trials and anxious thoughts?
Have you learned to be content in all circumstances?
Have you learned to cast all your cares upon the Lord?
Have you reached the point where you fully understand that God cares for you?
God wants our light to shine before others so that He may be glorified. Too often we think that means numbers or a big movement. Yet the Bible is full of narratives where faithfulness was practiced in front of a few.
If you're struggling remember this truth:
"
God can do much more with your surrender then you can do with your attempt to be in control.
" - unknown
Pastor Derek Forseth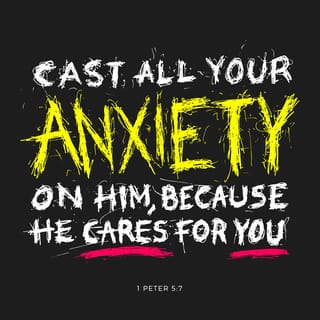 2 Comments
Joyce Bond
- October 27th, 2021 at 5:57pm
That you for those words of encouragement. I needed that!!
Julie McDermott
- October 27th, 2021 at 6:01pm
AMEN. The hospital is and can be a place to reflect,contemplate,and find peace with the Lord. He reminds me in such a place I am never alone. I need to hand my fears over to the All Mighty.